First Class Human Factors
Consultancy Services
Understand your employees and
improve efficiency
Drawing on our considerable experience and expertise as academics and applied practitioners, we offer a range of applied research and consultancy services that offer clients independent evaluation. In the application of robust and rigorous psychological research methods to exploring organisational challenges, we adhere to the highest ethical standards and gather data that supports organisations in evidence-based decision-making. We offer flexible and bespoke services to suit your needs, and would welcome a conversation about the challenge you seek to explore, question you wish to answer, or problem you need to solve.
Work with us to assess your unique fatigue risks and plan your fatigue management
We offer a consultancy support service for fatigue risk management (FRM), underpinned by a multidimensional model of the fatigue-risks facing your workforce. We adopt a bespoke approach, which allow us to collaboratively design a package of support for effective fatigue risk management planning.
Key to an effective FRM plan is:
1. an exploration of the range of risks facing your employees, and
2. assessing the gap between the existing risks and your current fatigue risk controls
Our plans typically include:
1. Fatigue Investigation Tool (FIT)
The FIT is a research-based survey of fatigue risks, which can be distributed to employees at all levels of your organisation. It will provide a quantitative analysis of fatigue risks, identifying the patterns and fatigue hot-spots across your organisation.
Risks are measured across a range of domains including:
1. Shifts patterns, working hours and recovery
2. Work demands (physical, emotional and mental)
3. Environmental stressors
4. Organisational fatigue culture
We can also develop bespoke aspects to the survey assessment in line with organisational requirements.
2. Fatigue risk management workshops
This service includes an in-person series of workshops with managers, relevant operational employees and decision makers. The aim is to gain an understanding of the unique fatigue risks in your organisation or in safety-critical roles. This will include a gap-analysis to facilitate the development of preventative and mitigation strategies. It will also help to develop common understanding of fatigue risks at all levels of your organisation and we will help you to produce a bespoke and comprehensive fatigue risk management plan in line with your needs.
Occupational Stress Risk Consultancy Services
Our team are nationally recognised as specialists in occupational stress risk assessment, contributing to the development of nationally available tools and research to support employers in delivering wellbeing strategy that's fit for the future.
We work closely with the Health and Safety Executive in the development of stress risk tools, and our outputs for stress risk management in remote working have been incorporated into the HSE's digital resources as an add-on question set alongside the Management Standards within the online Stress Indicator Tool.
We are able to offer a range of bespoke consultancy services to support organisations in meeting their legal duty of care, but to also go above and beyond by really delving down into the root causes of stress and poorer mental health within your organisation, so that you can tackle stress effectively and with longterm impacts.
Our range of services are offered at three levels of intervention: Bronze, Silver and Gold.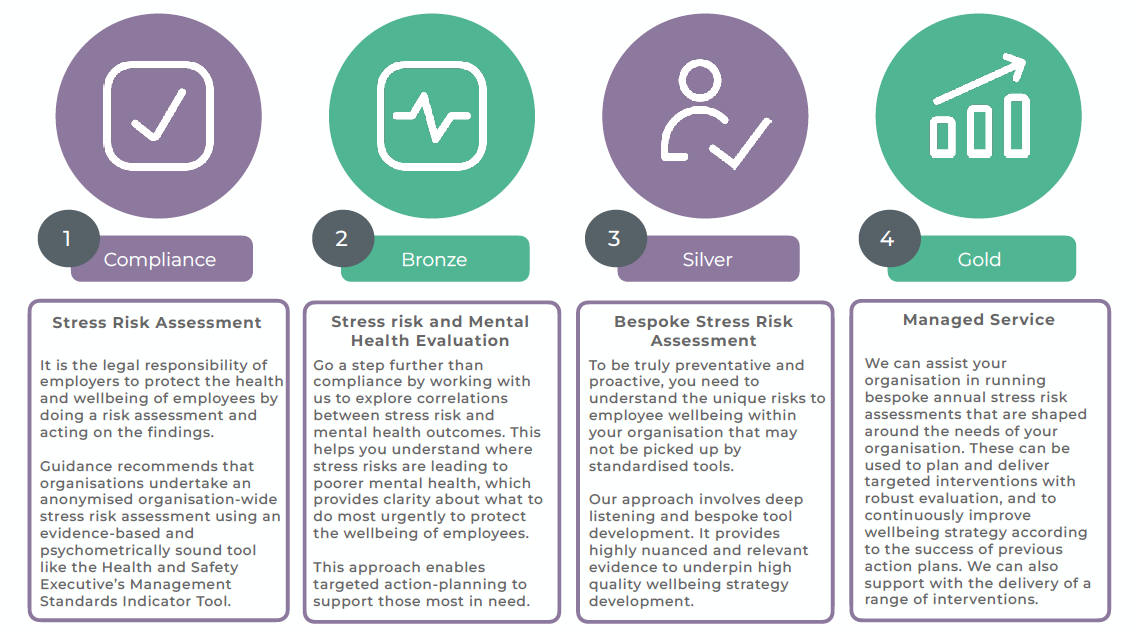 Understand how wellbeing provisions are landing with your workforce
Our team offers an evaluation process for organisational wellbeing provisions that gathers data about the effectiveness of existing wellbeing provisions, how these are perceived by the workforce, barriers to uptake, and potential next steps to address gaps and unmet needs. This work is underpinned by our specialist knowledge of workplace wellbeing strategy and policy, and by our research expertise. We adopt a bespoke approach, enabling an evaluation design that meets the needs of your organisation.
Our Wellbeing Gap Analyses process
This service typically includes a series of focus groups and interviews with managers, relevant operational employees and decision makers. It may also include the analysis of existing data sets provided by the organisation, and could include the development of a bespoke survey to test hypotheses generated in the qualitative data collection. In-depth analysis of the data sources leads to the production of a comprehensive report and workshops with senior leaders discussing the findings and recommendations.
Outcomes of this Work
Our approach to addressing unmet needs delivers the following:
1. Provides a safe and confidential space for employees to provide an honest perspective on their experiences in the workplace
2. Uncovers any gaps between what is provided and what people feel they need
3. Provides rationale for why people do or don't access existing provisions, and helps provide information about psychological safety in your organisation
4. Makes recommendations for the evolution of future wellbeing strategy and provisions
You can find out more about the benefits of this work in our case study with Humberside Police. 
Web page under development. Further details coming soon.
Measure Effectiveness of Current Practice
Our team is able to offer bespoke service evaluation design and delivery for a range of projects and services.
We apply our psychological research expertise to deliver evaluations of existing projects, interventions or services, producing detailed outputs that highlight key strengths and deliver internal recommendations for improvement.
Recent service evaluation work has included involvement in the evaluation of the Together, Bereaved by Suicide service in Yorkshire and the Humber, and in the delivery of an evaluation of a Digital Health Hubs project funded by the Humber, Coast and Vale CCG.
Talk to us to discuss your service evaluation needs and how we may be able to assist.